Funding
2017 Public Engagement with Research funding
Holly has been awarded
funding
by the MPLS division to support public engagement activties . We will develop a series of games, talks and experiments to take to secondary schools and build an online platform to inspire and inform school students about Industrial Biotechnology and the
HydRegen
technology.
2016 IB Catalst funding
The Vincent group have received major funding from EPSRC via Innovate UK / EPSRC / BBSRC Industrial Biotechnology Catalyst Round 3 (
EP/N013514/1
). The project, developing H
2
-driven enzyme-catalysed chemical synthesis, started in Jan 2016 with Dr Holly Reeve as Project Manager.
2015 iCASE studentship
Michalis Posidias joined the team to begin his DPhil, his research project looks at operating the enzyme-modified particle system in the reverse direction for H
+
-driven NAD
+
recycling to support terminal alcohol oxidation to generate aldehydes. This is funded by a BBSCR iCASE studentship with support from
Johnson Matthey Catalysis and Chiral Technologies
.
2014 Business Interaction Voucher
Work to extend the H
2
-driven cofactor recycling system to NADPH recycling for NADPH-dependent enzymes was supported by a Metals in Biology NIBB Business interaction voucher and GSK.
2012 ERC Proof of Concept funding
R&D on this innovation was supported by ERC Proof of Concept Grant 297503 during 2012.
Publications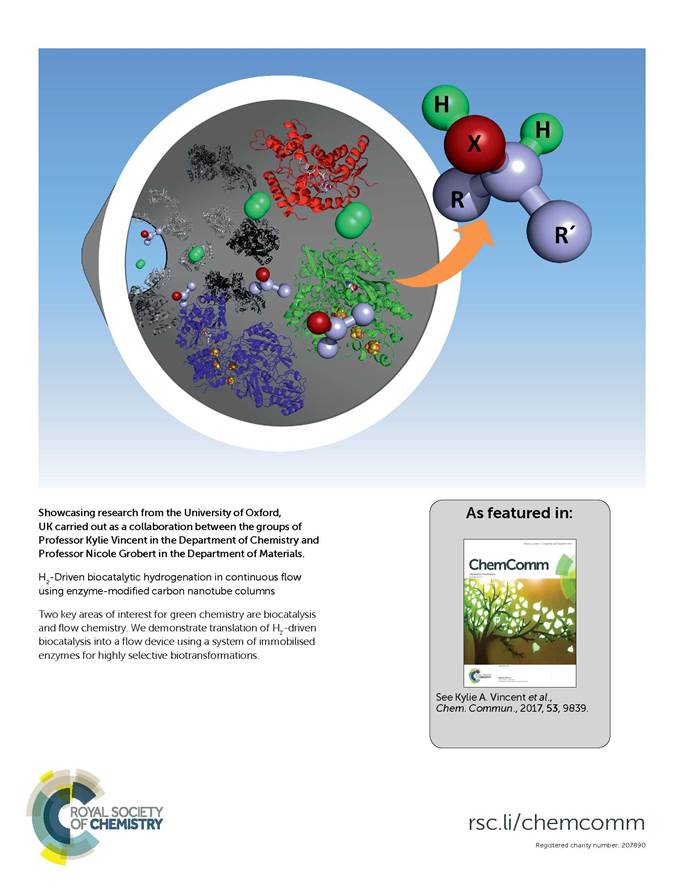 Preprint
: Rowbotham, J.S., Lenz, O., Reeve, H.A., Vincent, K.A., 2019,
ChemRxiv
DOI: https://doi.org/10.26434/chemrxiv.7982864.v1
Cover article
in ChemCommun: Zor, C., Reeve, H.A., Quinson, J., Thompson, L.A., Lonsdale, T.H., Dillon, F., Grobert, N., Vincent K.A., 'H
2
-driven Biocatalytic Hydrogenation in Continuous Flow using Enzyme-Modified Carbon Nanotube Columns',
Chem. Commun.,
2017, 53, 9839-9841
DOI:10.1039/C7CC04465H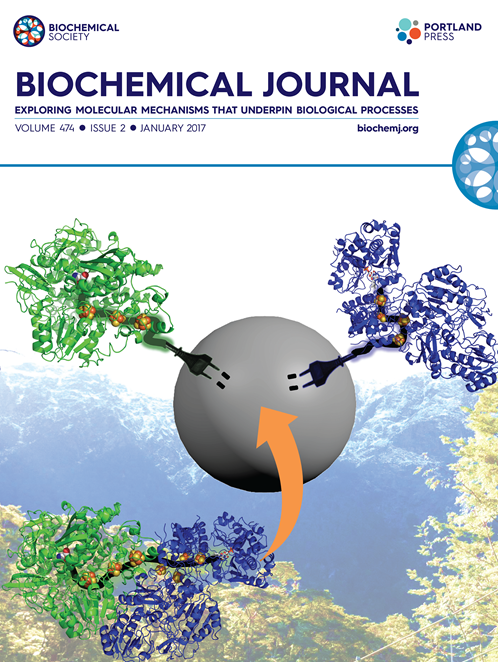 Cover Article in Biochemical Journal:
Reeve, H.A., Ash, P.A., Park, H., Huang, A., Posidias, M., Tomlinson, C., Lenz, O., Vincent, K.A., 'Enzymes as modular catalysts for redox half reactions in H
2
-powered chemical synthesis: from biology to technology',
Biochemical Journal
, 2017,
474
, 215-230
DOI:10.1042/BCJ20160513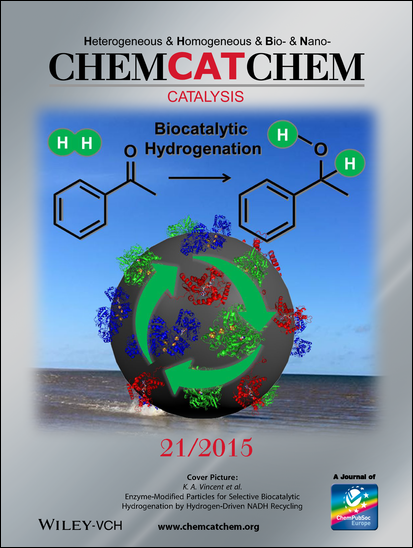 Cover Article in ChemCatChem:
Reeve, H.A., Lauterbach, L., Lenz, O., Vincent, K.A. 'Enzyme-Modified Particles for Selective Bio-Catalytic Hydrogenation via H
2
-driven NADH Recycling'
ChemCatChem
, 2015,
7
, 21, 3480 - 3487
DOI:10.1002/cctc.201500766
Reeve, H.A., Lauterbach, L., Ash, P.A., Lenz, O., Vincent, K.A., 'A modular system for regeneration of NAD cofactors using graphite particles modified with hydrogenase and diaphorase moieties'
Chem. Commun.
2012, 48 (10), 1589-1591.
Link
.
Lauterbach, L., Idris, Z., Vincent, K.A., Lenz, O. 'Catalytic properties of the isolated diaphorase fragment of the NAD
+
-reducing [NiFe]-hydrogenase from
Ralstonia eutropha
'
PLoS ONE
, 2011, 6, (10): e25939.
Link.
Patent
A patent covering the HydRegen technology was filed in 2011. Publication number:
WO2013050760 A2
.
More information about the technology can be found on the
Oxford Univerity Innovation
webiste.